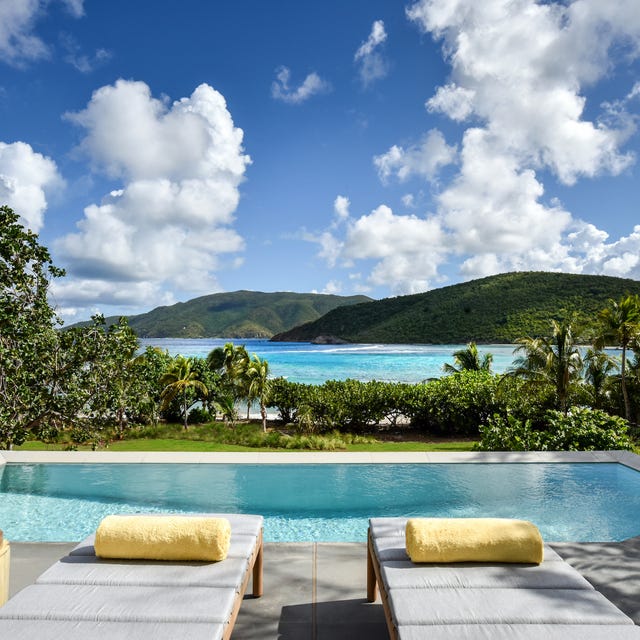 KEN HAYDEN PHOTOGRAPHY
Whether you're planning a glamorous Valentine's Day vacation or surprising your partner with a fabulous couple's getaway, finding the perfect place to spend a long weekend (or longer) can seem like a daunting task. When looking for the right romantic getaway, it's important to find a destination that meets your needs as a couple and as individuals so that you both leave feeling refreshed and rejuvenated. You might be looking for immersive wellness experiences while your partner might want to hit the links, and you're both looking for spectacular views.
Our editors dream of destinations that inspire, dazzle and allow us to slow down and savor every moment with the person we love most in life. The following locations offer an abundance of activities for every type of couple as well as plenty of opportunities to simply relax and enjoy the view with a glass of wine and a good book. No matter what your imagined romantic getaway looks like, we're sure you and your partner will fall even more in love with each other and one of these fabulous cities in the United States, Mexico and the Caribbean.
1-New Orleans
For those looking for a long weekend filled with incredible music, art, culture, architecture, and culinary experiences, New Orleans is the perfect destination to enjoy the best of all of these things. Check the city's calendar of events to book a trip that matches one of NOLA's legendary festivals or a quieter weekend where you'll be closer to having the streets to yourself.
One of our favorite stays at The Big Easy is Maison de la Luz, a glamorous guest house with breathtaking interiors by Studio Shamshiri. The hotel's Marilou bar is a favorite with locals and guests can enjoy privileged access to the bar behind a hidden door with a secret lounge. Be sure to pop into the lounge before heading out in the evening for a free happy hour.
2-Lake Tahoe
Another wonderful year-round destination, Lake Tahoe is home to picturesque mountain and water views, a range of wellness offerings, and charming streets filled with fabulous shops and restaurants. Plus, you're not too far from California wine country, which means plenty of opportunities to enjoy the best bottles in the state.
Find your slice of alpine paradise at Edgewood Tahoe Resort, an opulent mountain retreat home to acclaimed golf, a top-notch spa, and lavish accommodations. It is also the only lakeside resort in the region. If you're looking for ultra-private accommodation, the hotel is opening a range of villa suites that will open in September 2022.
3-Nantucket
There's simply nowhere like the idyllic island of Nantucket. Full of 18th century American charm, a luxurious yet laid-back atmosphere, and plenty of organic splendor, it's the perfect place for a sunny romantic getaway. While the island feels charmingly rooted in the past, there are plenty of accommodations that offer the best modern amenities for a five-star vacation.
White Elephant Nantucket is one of our favorite places to stay when we are lucky enough to be on the island. The resort is home to spacious garden cottages and residences that will make the perfect base, as well as a plethora of amenities ranging from beach cruisers to top restaurants and private cabanas for the ultimate escape.
4-sea ​​island
Just off the Georgian coast is Sea Island, an island destination with all the amenities one could wish for. From golf and tennis to hunting, boating and an afternoon at the pristine spa, there is no shortage of activities here.
The Cloister at Sea Island is the most luxurious property in the area. Sitting on 50 lush acres surrounded by the river, saltwater marshes, and sea, you'll feel like you've stepped into a favorite romantic novel. Plus, it's home to some of the best restaurants on the island for an unforgettable intimate meal.
5-maui
Considered one of the most romantic destinations in the United States, the tropical island of Maui is an idyllic place for a couple's trip in 2022. Whether you want to improve your surfing skills, explore the region's varied terrain or simply soaking up the sun in the most luxurious way possible, this Hawaiian island will more than live up to our expectations.
Experience authentic Hawaiian culture, cuisine, relaxation and adventure at Montage Kapalua Bay, home to spacious residences with stunning views. Be sure to book the dinner of your life at Cliff House, a private dining experience offered by the resort that is considered one of the finest venues on the island.
6-Charleston
This beloved southern town is lined with colorful houses, Spanish moss and world-class restaurants. Plus, you're only minutes away from fabulous golf courses and nearby beaches. What's not to like?
A seamless blend of European and Southern glamour, The Bennett Hotel is the perfect place to enjoy all the wonders of Charleston, offering some of the best views and amenities in town. Book your room with King's Club access to ensure every moment of your stay is luxurious, from the Champagne welcome to the private rooftop lounge overlooking King Street, to complimentary upgrades to the Bennett's Hotel Spa .
7-carmel
California's central coast is a gem between the bustling cities of LA and San Francisco. The village of Carmel is a particularly idyllic section of the Pacific Coast Highway, full of European charm and commanding views of the Pacific. Needless to say, this is the perfect place for a quiet weekend filled with romance.
Auberge Carmel is a historic property with old-world elegance that's perfect for a weekend in Monterey Bay. It's home to the Michelin-starred Aubergine Restaurant (which also serves a spectacular breakfast for guests each morning), rooms filled with antiques, and proximity to the best restaurants and shops in the village.
8-Litchfield Hills
A short drive from Boston and New York, Litchfield Hills, Connecticut is a small, historic town lined with 18th-century homes, lush green spaces, and some of the most luxurious accommodations in the state.
Nestled near Morris, Winvian Farm is a sprawling 113-acre property that features 18 luxurious cottages, each representing a facet of Connecticut culture or history. Enjoy fabulous meals overlooking the garden where many of the ingredients were grown, a restorative day at the spa (home to Biologique Recherche treatments) and plenty of outdoor activities to experience the best of nature.
9-British Virgin Islands
If you're looking for an international getaway, the BVIs are a quick flight to and from while offering otherworldly views and stellar accommodations. Whether you and your partner enjoy sailing, snorkeling or catching rays with a stack of magazines, this stunning stretch of islands will never disappoint.
Book your stay at the newly renovated Rosewood Little Dix Bay to enjoy one of the world's finest getaways. A Sense spa, elegant dining options, and beachside picnics are just a few of the romantic amenities to enjoy here. The resort also has a well-equipped 57ft catamaran on which guests can cruise for an afternoon or several days to make the most of their stay in the sailing capital of the world.
10-Sonoma
California's wine country will always be a favorite domestic destination for a romantic getaway, and we hold a special place in our hearts for Sonoma. This charming town is home to some of the region's most prestigious wineries, as well as up-and-coming players, as well as an array of amazing dining options, bike paths and shops filled with local produce (don't miss the olive oil !).
MacArthur Place Hotel & Spa is the perfect place to spend a romantic weekend in Sonoma for its private cottages, intimate lounges, fabulous restaurants, and nature-inspired spa treatments. Dine at local favorite Layla for an unforgettable brunch or dinner, take an e-bike and ride the Sonoma Bike Path through idyllic vineyards, and relax in your own outdoor bath in one of the Garden Suites Spa.
11-Jackson Hole
Blame it on the pandemic (or on our nation Yellowstone addiction), but the Wild West has been a destination of choice for a few years. While you're welcome to play Rip with a Week on a Ranch, we imagine something a little more laid back and luxurious.
Jackson Hole is a prime spot for a romantic getaway for its seclusion, variety of luxurious and private accommodations, and plentiful options for outdoor activities. Onefinestay's Abode at Moosehead Cabin sits just above Teton Village and offers the spirit of the American West with all the modern luxuries of a charming retreat. The house is located between 130 miles of ski runs which are also perfect for biking in the summer.
12-San Miguel de Allende
The artistic magic of San Miguel de Allende has made this town a top emerging destination in recent years. Home to baroque Spanish architecture, bustling boutique hotels, inspiring artisan workshops and bustling restaurants, it's a perfect getaway for those looking for a bit of city life with plenty of space to relax.
There are few places more luxurious than Casa de Sierra Nevada, A Belmond Hotel, where old-world luxury abounds. Ultra-chic interiors, award-winning cuisine, artists' corner and cooking school, you'll never tire of immersive experiences in this one-of-a-kind destination in the Mexican highlands.